5 minutes to apply
Money in your pocked in a few days.1
A NEW kind of HELOC
with Fully Automated...EVERYTHING!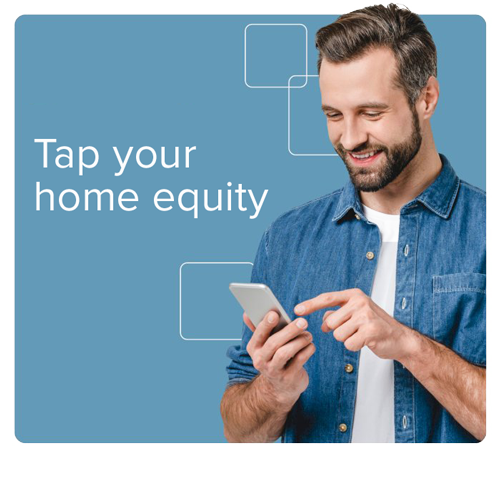 No paperwork. No hassles. Link to your accounts and we'll handle your home equity line of credit.
Traditional HELOCs keep you guessing with their variable rates, our HELOC rate is locked in for the life of your loan!
Get the funding you need fast without having to bring any money to closing.
A traditional HELOC takes 45-60 days. Ours? Only 5 to 10 days! 2
Eligible Property Types 👍
Primary Residences, Second Homes, and Investment Properties

Single-Family Homes

Townhomes

Condominiums (mid-rise and high-rise)

Planned Unit Developments (PUD)
Ineligible Property Types 👎
Co-ops

Duplexes, 2+ unit multi-family real estate

Manufactured Housing, log homes, timeshares, houseboats

Commercially zoned real estate

Mixed-use properties

Properties larger than 20 acres

Properties located in a disaster area
No Standard Appraisal Required!
No standard appraisal required. Property information for this HELOC program is collected through automated systems including county records, automated value methods, third party systems, etc. We cannot use recent appraisals or dispute automated values.
1 Approval may be granted in five minutes but may be subject to verification of income and employment. Five business day funding timeline assumes closing the loan with our remote online notary. Funding timelines may be longer for loans secured by properties located in counties that do not permit recording of e-signatures or that otherwise require an in-person closing. In addition, funding timelines may be longer if we cannot readily verify that your property is in at least average condition with no adverse external factors with a property condition report and may need to order a desktop appraisal to confirm the value of your property.
2 Source: Curinos Home Equity and Retail First Mortgage Originations Consortiums